T H E
S P A C E
B E T W E E N
Discover how to measure pupillary distance
So what will you be measuring?
Quite simply, measuring pupillary distance refers to the space between the pupils of your eyes from the center of one pupil to the middle of the other. Easy enough? When you have an accurate reading, it will be used to determine where you will end up looking through the lenses of your glasses. As a basic guideline, most adults have a pupillary distance of around 55-65mm.
We're talking about Pupillary Distance (PD).
Why would you want to measure pupillary distance? Well, if you have just had your eyes tested and want to make sure that your eyes match up perfectly with the optical center of your lenses –then you need to know your PD measurement. If you have your eye on some stunning new Tom Ford, Dior Homme or Oliver Peoples spectacles, you want to make sure that your lenses are going to fit just right in the frame for optimal vision.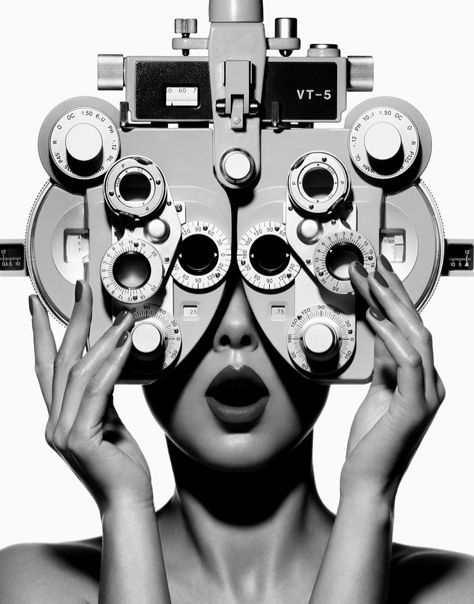 B E C O M I N G
T H E P D
E X P E R T
Isn't that something the optician should handle? Well, yes. But they might not have put it on your prescription. This is not the end of the world. You can just call them up and ask for it, or you can be super empowered and learn a new PD measuring skill. It is always great to know how to measure every part of yourself, right? And you can drop it into a conversation especially if you need a good excuse to look long and hard into the eyes of your date.
E
D U
C A T E D
P U P I L
When it comes to figuring out how to measure pupillary distance, there are a few easy ways from which to choose. The first is to simply go to the iTunes store and download the free PD ruler app. You can also put on your glasses and look into a mirror. Take a highlighter and make dots on your lenses where the center of your pupils are positioned. The next step is to measure the distance between the two highlighted dots. Another way is to take a ruler (you can get downloadable PD rulers online) and place it directly over the center of your right pupil. The ruler will be horizontal of course. You can hold it against your forehead for extra stability while measuring. Go back to the mirror standing about 8 inches away, staring straight ahead and measure the distance from the center of your right pupil to the center of your left pupil. You should repeat it a few times too to get the most accurate reading –which will be an average of the measurements.