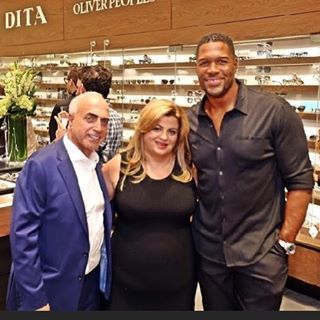 Michael Strahan is no stranger to luxury high fashion. Upon entering New York City, we made sure to invite our VIP client and arranged a personal shopping appointment with an expert eyewear stylist.
During our grand opening celebration at Westfield World Trade Center, Michael Strahan and friends stopped by our flagship location to check out the latest exclusive inventory. Our preview party made headlines. We made new friends (shout out to gorgeous Olivia Caridi), met fashion bloggers/influencers and kept the bubbly flowing throughout the evening.
And we made sure to hook Michael up with our limited edition selections, which can only be found at Designer Eyes locations. If you want chic eyewear that no one else has, enter into the Designer Eyes fashion house.
Luxury brands plan to showcase one-of-a-kind pieces at our locations. New York fashionistas, we are here for you! Allow us to style you with the latest and greatest eyewear pieces, just in time for that big event or relaxing vacation. Stay prepared, stylish and fashion forward before anyone.
Head spinning, ever changing fashion industry, it's so hard to keep up. But we are here to make your life simpler. Follow us for the latest updates, visit our boutiques and allow our expert eyewear stylists to get their hands on that beautiful face of yours. The expansion into New York City, is just the beginning. Miami fashionistas, we have you covered. Our next luxury retail location will be at Brickell City Centre….the anticipation of this uniquely designed store will be a sight for sore eyes.
Couldn't make it to the big party? See a recap here of what you missed.